Feral animal control boosts mens' health
June 15, 2018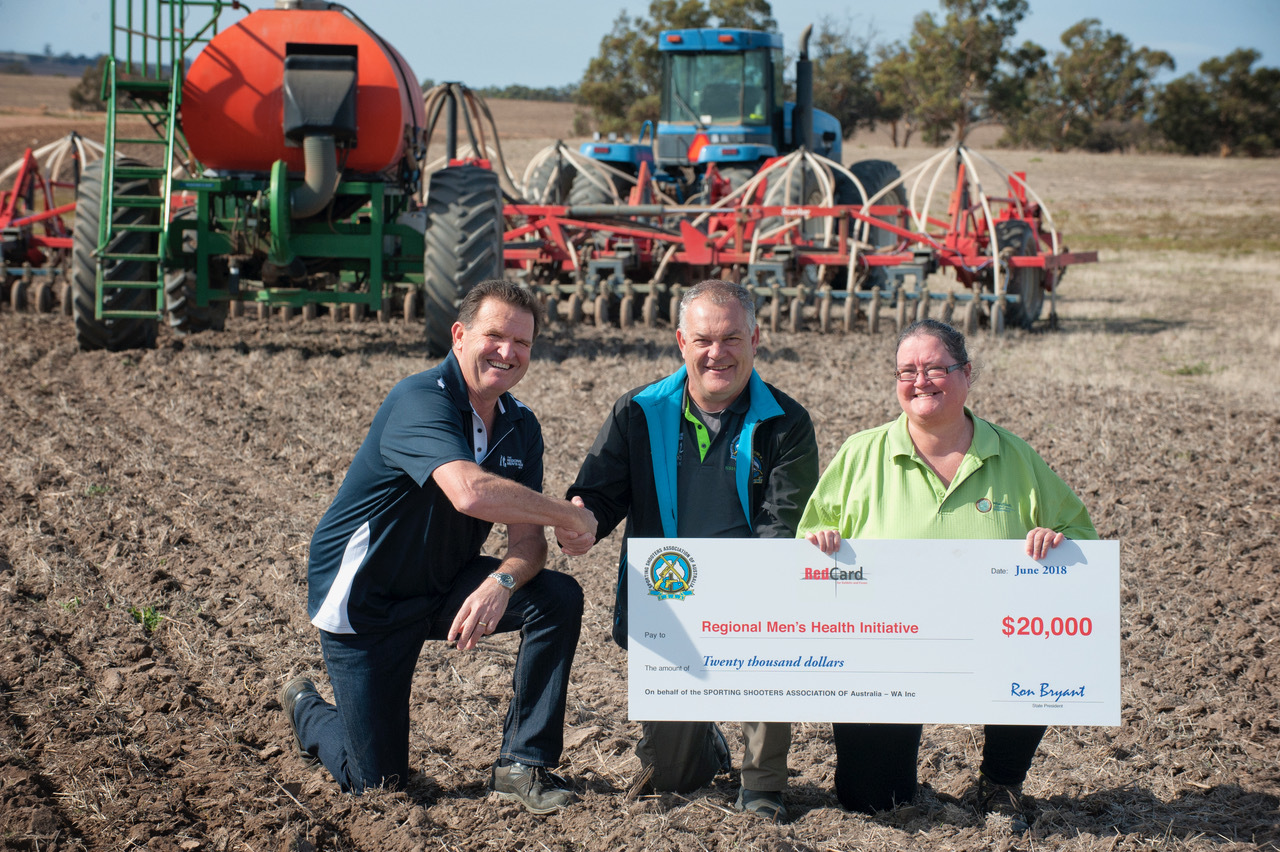 Accepting funding and support for the Regional Men's Health Initiative was the group's Owen Catto (left) with the SSAA of WA president Ron Bryant and Wheatbelt NRM's Jacquie Lucas.

Wednesday, 13th June 2018
Feral animal control boosts mens' health
For the second year in a row, a program targeting feral animals will improve the health and wellbeing of men in regional WA.
Red Card for Rabbits and Foxes coordinates community members to help stop foxes, rabbits and feral cats damaging the environment.
The program also fundraises through the Sporting Shooters Association of Australia WA, which has this year donated $20,000 to the Regional Men's Health Initiative.
The SSAA WA-president Ron Bryant said his members were happy to get behind both causes.
"For every feral animal shot during this year's Red Card campaign, our members' pledged five dollars to charity," Ron Bryant said.
"For the second year running, we have chosen to donate this money to the Regional Men's Health Initiative.
"We felt funding in the area of mens' health was really lacking and therefore a great initiative for us to get behind."
Regional Men's Health executive officer Owen Catto said the funding would go directly into programs encouraging men to talk about their health and mental wellbeing.
"We're grateful for the SSAA WA because it helps us to carry out programs supporting men living in rural WA," Owen Catto said.
Already more than 1000 volunteers from Northampton through to Esperance have taken part in this year's Red Card for Rabbits and Foxes program.
They've helped eradicate 3657 foxes, more than 215 feral cats and nearly 2000 rabbits.
Natural resource management group Wheatbelt NRM also helps to coordinate the coordinated cull.
The group's project delivery officer for Healthy Environments Jacquie Lucas said feral cats were devastating native animal populations.
"By having campaigns like Red Card, we can better coordinate communities to target these feral animals."
The project was supported by the Western Australian Government's State NRM Program and Wheatbelt NRM.
For more information log onto www.facebook.com/RedCardRF/
Media contacts:
Anika Dent, Wheatbelt NRM, 9670 3100 or 0488 902 220
Ron Bryant SSAA WA Inc 0418 487 959